Fulbright Day: Philippines - July 3
As the global Fulbright Program celebrates its 75th anniversary this year, Fulbright Philippines celebrates 73 years of cross cultural and educational exchanges with an eye toward our own 75th anniversary in 2023 as the oldest continuous Fulbright Program in the world. On July 3, 2021, Fulbright Philippines celebrates Philippine Republic Day (in Tagalog/Filipino: Araw ng Republikang Pilipino), also known as Philippine–American Friendship Day, an annual commemoration in the Philippines, with scholar features, gratitude to prominent Fulbrighter alums on the frontlines and in higher education, and kicks off an evolving photo gallery of Fulbright Philippines over the years.
This article is divided into the following sections:
Fulbright Philippines Alumni Feature #1: Grace Talusan - A Filipino Writer in the World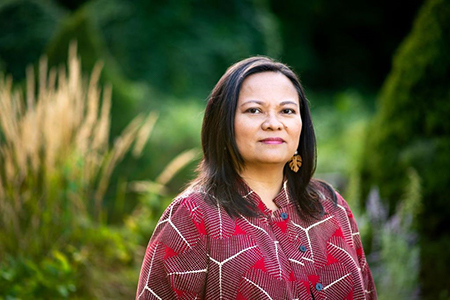 Grace Talusan's recently-published memoir, The Body Papers (2019), would not exist without her Fulbright experience. The memoir won the Restless Books Prize for New Immigrant Writing resulting in its publication, then went on to win the Massachusetts Book Award in nonfiction and was a New York Times Editors' Choice selection. A short research trip from the Philippines to Hong Kong informed a revision of her short story, "The Book of Life and Death," which was chosen as the Boston Book Festival's 2020 One City One Story and was translated into several languages, including Tagalog.
Read more about this remarkable Filipino Writer in the World! >>
Fulbright Philippines Alumni Feature #2: Michael Gonzalez - The Integrity and Integrality of Indigenous Weaving
Dr. Michael M. Gonzalez was encouraged to apply for a U.S. Fulbright Fellowship to the Philippines in 2017 by faculty members as he worked through his dissertation. A product of an international education, Michael graduated from the University of the Philippines' History Department, holds a masters degree in Social Anthropology from Sydney, Australia, and a U.S. doctorate in Education. An adjunct faculty of the City College San Francisco's Philippine Studies Department, Michael teaches courses in Philippine Society and Culture Through Film, The Filipino Family, and Philippine Anthropology, where he enjoys challenging the misperceptions of American students about Philippine society. During his Fulbright experience, he conducted research on indigenous weaving in the Philippines and investigated the impact of globalization in the life cycle/value chain of handwoven textiles for his project, "Fabrics for the Future: A Preliminary Field Research on The Challenge of Glocalization, Culture and Product Life Cycle in Selected Artisanal Weaving Communities in the 21st c. Philippines."
Read more about Dr. Michael Gonzales an amazing Fulbrighter! >>
Thank you Fulbrighter!
As part of Fulbright75, PAEF shows gratitude to several Philippine Fulbrighters fighting on the frontlines of a global pandemic, including Dr. Ronald Law, Chief, Preparedness Division, Emergency Management Bureau, Department of Health-Philippines, and many of our notable alumni that serve leading roles transforming Philippine higher education, such as CHED Chairperson Dr. Julian Prospero "Popoy" De Vera III.
Fulbright Philippines Alumni Lead on the Frontlines of a Global Pandemic
As COVID-19 continues into a second year of worldwide existence, even with the advent of a flurry of vaccines and inoculations, its spread and reach remain comprehensive. International exchange and cooperation have proven vital in the fight for human health and safe living. U.S. Ambassador to the Philippines Sung Y. Kim emphasized the necessity and power of this crucial partnership around COVID-19 last year in "Our Enduring Partnership: Working Together To Defeat COVID-19": https://ph.usembassy.gov/our-enduring-partnership-working-together-to-defeat-covid-19/. USPhilippines Society followed up with a more expanded look at all of the ways Filipino Fulbrighters have contributed to ongoing efforts in "Weekly Issues: US-Philippines Exchange Alumni and the COVID-19 Response": https://www.usphsociety.org/2020/05/28/weekly-issues-us-philippines-exchange-alumni-and-the-covid-19-response/. More recently, a Q&A with Dr. Ronald Law, 2019 Fulbright Visiting Scholar from the Philippines, was featured this year on the Global Fulbright blog in "Fulbright Impact in the Field: Combating COVID-19": https://cies.org/article/fulbright-impact-field-combating-covid-19. Fulbright Philippines honors all of its scholars working on the front line in this global battle to #FlattenTheCurve. Thank you to the following for your work and commitment to healthcare research amid the #COVID19 pandemic:
Dr. Shirley C. Agrupis, President, Mariano Marcos State University, Fulbright Visiting Researcher 2011 - Kansas State University
Dr. Vikki de los Reyes, Medical Specialist III, Epidemiology Bureau, Department of Health - Philippines, Humphrey 2018 - Emory University
Dr. Mariano Hembra, Chief of Hospital II, Don Jose Monfort Medical Center, Humphrey 2003 - Johns Hopkins University
PDr. Beverly Lorraine Ho, Special Assistant to the Secretary for UHC, Health Research Division, Department of Health-Philippines, Fulbright Foreign Student Program 2014 - Harvard University
Dr. Mario Jiz, Head, Immunology Department/Chief Science Research Specialist, Research Institute for Tropical Medicine, Fulbright Foreign Student Program 2005 - Brown University
Dr. Ronald Law, Chief, Preparedness Division, Emergency Management Bureau, Department of Health-Philippines, Fulbright US - ASEAN 2019 - University of Washington
Dr. Neil Melencion, Senior Science Research Specialist, Philippine Coconut Authority, Zamboanga Research Center, FPASP PHD 2002 - Mississippi State University
Dr. Maria Lourdes Otayza, Medical Center Chief II, Department of Health-Marian Marcos Memorial Hospital and Medical Center, Humphrey 2007 - Tulane University
If you know a #Fulbrighter who is contributing to the fight against #Covid19, please send us a message at This email address is being protected from spambots. You need JavaScript enabled to view it.. #FulbrightPH #Covid19PH #ThankYouFulbrighter
"Notable Alumni Leaders in Higher Education"
The Fulbright Program has empowered a bevy of dedicated and talented students, scholars, teachers, artists, and professionals across diverse arenas of work to study, teach and conduct research, exchange ideas, and collaborate around complex global issues to find impactful solutions. A number of them have leveraged their Fulbright experiences into greater leadership in higher education in the Philippines, and we thank them for serving their nation as stewards of outstanding scholarship and lifetime learning of, by, and for their country's citizens.
"Fulbright Philippines Over the Decades" — An Evolving Photo Gallery of Excellence
On March 23, 1948, the Philippine-American Educational Foundation (PAEF) was established as a Fulbright Commission. Over seven decades, we have worked with over 3,000 Filipino scholars and researchers and over 1,000 American scholars. Our alumni community includes at least one National Artist of the Philippines, several high-ranking government officials, global intellectuals in universities across the world, justice-minded activists and cultural workers, successful published authors and poets in both the U.S. and Philippines, legal scholars and policy practitioners, innovative scientists, community-builders and educators, and an award-winning artist that showed at the prestigious Venice Biennale.
Fulbright Philippines launches an evolving photo gallery of "Fulbright Philippines Over the Decades" to emphasize PAEF as a Fulbright Commission with continuing partnerships that are integral to their ongoing work as well as to illuminate our talented alumni making their marks in diverse fields. If you are a Fulbright alum, especially pre-1990s, who has photos to perhaps contribute to the digital gallery, please