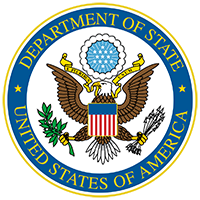 U.S. Department of State (www.state.gov)
The mission of the Department of State is to shape and sustain a peaceful, prosperous, just, and democratic world and foster conditions for stability and progress for the benefit of the American people and people everywhere. This mission is shared with the USAID, ensuring a common path forward in partnership as they invest in the shared security and prosperity that will ultimately better prepare the people for the challenges of tomorrow.

Bureau of Educational and Cultural Affairs (ECA) (www.eca.state.gov)
The Bureau of Educational and Cultural Affairs works to build friendly, peaceful relations between the people of the United States and the people of other countries through academic, cultural, sports and professional exchanges, as well as public – private partnerships.
Institute of International Education (IIE) (www.iie.org)
IIE is among the world's largest and most experienced international education and training organizations. IIE is committed to delivering program excellence to a diverse range of participants, sponsors, and donors.
International Research and Exchanges Board (IREX) (www.irex.org)
IREX is an international nonprofit organization providing thought leadership and innovative programs to promote positive lasting change globally. IREX employs field-tested methods and innovative uses of technologies to develop practical and locally-driven solutions with their partners in more than 125 countries.
World Learning (www.worldlearning.org)
World Learning Inc. is a nonprofit organization advancing leadership in more than 60 countries. They envision a just world, driven by engaged citizens and thriving communities. World Learning's mission is to empower people and strengthen institutions through education, development, and exchange programs.
Educational Testing Service (ETS) (www.ets.org)
The mission of ETS is to advance quality and equity in education for all people worldwide because we believe in the power of learning. ETS strives to provide innovative and meaningful measurement solutions that improve teaching and learning, expand educational opportunities, and inform policy.
Hopkins International Partners, Inc. (www.hopkins.ph)
Hopkins International Partners, Inc. is the sole authorized Philippine representative of the Test of English for International Communication (TOEIC). TOEIC® is a recognized global standard for measuring English language proficiency developed by the Educational Testing Service (ETS) of Princeton, New Jersey which is a private organization devoted to educational measurement and research in psychometrics and educational policy. Many of its well-known testing programs, such as the TOEFL® test, the SAT®, the GMAT®, and the GRE®, involve multiple choice test questions. TOEIC® is represented in at least 60 countries and accepted by respectable institutions such as the Commission on Graduates of Foreign Nursing Schools (CGFNS) of the United States and the Health Professions Council (HPC) of the United Kingdom.