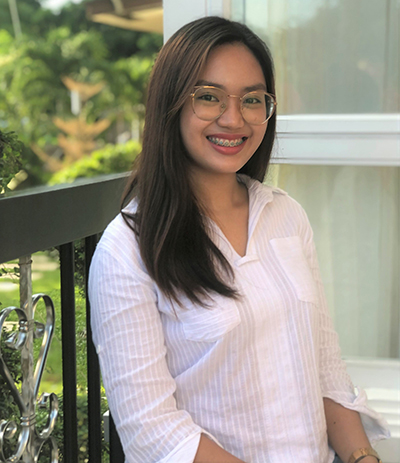 Aera Eustaquio
Aera Eustaquio is a 20-year-old, 2nd-year Bachelor of Medical Laboratory Science student at Saint Louis University, Baguio City. Although Aera was born and raised in Zamboanga City, located in the south of the Philippines, she decided to embark on a challenge to study in a consistent top-performing school in the north. She has the innate thirst and hunger to discover, experience, and learn. Unfortunately, the pandemic forced schools to the online modality. Nevertheless, even as a pioneering batch in the learning modality shift, she excels and makes it to the Dean's List every semester.
During her senior high school at Universidad de Zamboanga – Technical High School, Aera graduated with High Honors, Proficiency in Science and English, and other awards while serving in their school community. She was the Vice-President of their respective Student Supreme Council and the Editor-in-Chief of her high school publication.
As a Fulbright Scholar, Aera will spend a semester at a university in the United States of America to learn about the culture and grasp fresh leadership qualities and ideas that will enable her to initiate movements in her country, most especially in her hometown. It is Aera's leap toward being an effective global citizen. Additionally, as Aera will delve deeply into studying the natural sciences, she opts to use the knowledge to raise every Filipino toward a healthier society. At the same time, Aera hopes to encourage the youths in her community to participate in global movements and reach the seemingly impossible but possible opportunities as she did.
As of the moment, Aera is focused on her studies while being an active volunteer at Every Nation Campus – Zamboanga. She builds intentional friendships with people around her and strives to be present in nearly every family gathering. If Aera is not burying her head in medical textbooks, she would read novels, watch movies, revel in Korean and American entertainment, hike, dance, play mobile games, or sleep to feel at ease.