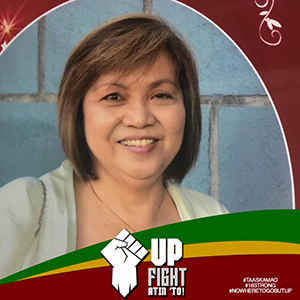 Amelia R. Clasara - Fajardo, Ph.D.
Associate Professor
Curriculum Studies Area
College of Education
University of the Philippines Diliman 1101


Amelia R. Clasara - Fajardo is an associate professor of curriculum studies at the UP College fo
Education. Spent more than 35 years in the UP Diliman, in the three units of the UP College of Education, as
instructor, science education specialist and as associate professor.
Her professional growth is like a spiral curriculum, moving from simple to complete across horizontal base of
educational core competencies. She started with then basic competencies of teaching, moving towards
materials development, research and curriculum development. At this point in her professional life, she has
broad experience in research (situational analysis to evaluation), program design and development across
disciplines from corporate talent development program, teacher education,, vocational technical courses. Her
latest research interest is the curriculum and instructional design and development in military education.