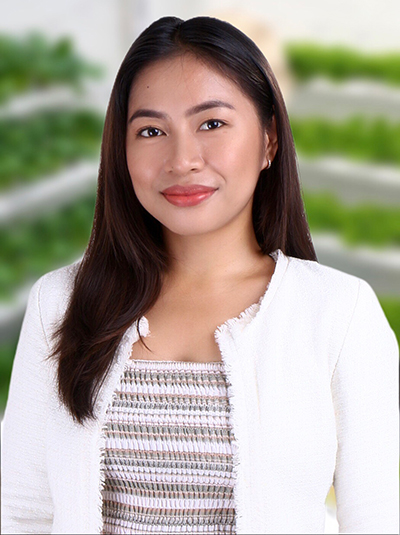 Home institution: University of the Philippines Los Banos
Host institution: TBA
Award Name: Global Undergraduate Exchange Program
Discipline: Agriculture
Award Year: 2022

Bea is taking a Bachelor's degree in Agriculture, Major in Horticulture at the University of the
Philippines Los Banos. She is passionate about mastering the science and art of growing food
using hydroponics, aquaponics and vertical farming. In 2021, she co-founded an enterprise
called "City Farm" that aims to augment the food supply in their community during the COVID-19
pandemic by utilizing modern agricultural technologies. As a Global UGrad Scholar, Bea will
study agriculture entrepreneurship, digital marketing and public speaking in the U.S. to learn
how to further advance their organization's social impact while being financially sustainable.
Upon her return, she hopes to take urban farming in the Philippines to a whole new level and
encourage more people, especially the youth to join the movement.

Aside from agriculture, Bea is also passionate about scientific research. In 2019, she
represented the Philippines at the Intel International Science and Engineering Fair in Arizona,
USA with her study about coffee pathology. She is also a recipient of the prestigious Gokongwei
Brothers Foundation Young Scientist Award Scholarship and DOST-SEI RA 7687 Scholarship.

In her spare time, Bea enjoys making educational and entertaining content about urban
gardening on her TikTok @urbanfarmertv with currently 73,000 followers. She also loves to
decorate spaces, work out, read books, watch kdrama and take long naps.