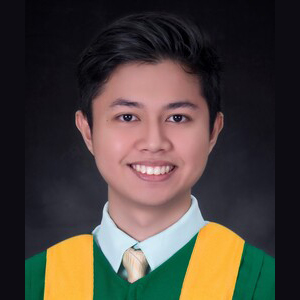 Christian is an undergraduate student from the Ateneo de Manila University who is currently taking up his bachelor's degree in Biology. He is a part of the Ateneo Honors Program; an awardee of the university's 100% Tuition and Fees, and Dormitory Scholarship; and a recipient of the Department of Science and Technology – Science Education Institute's (DOST-SEI) Merit Scholarship.

As a student of the university, Christian is the Council of Organizations of the Ateneo – Manila's (COA-M) Co-Director of the Committee on Organizational Strategies for Mental Health (COSMH). As the Co-Director, he spearheads the organization's response to the increasing number of mental health issues of the Ateneo student body through the formation of policies which address these problems in the context of student organizations.

Through his Atenean education, Christian hopes to become a biomedical researcher who focuses on natural products discovery and development as he believes that the biodiversity in the Philippines may help in finding potential treatments to various diseases in the country.