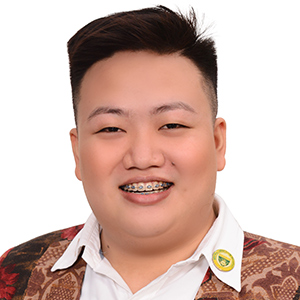 JOSEPH AGBUYA VILLARAMA works as assistant professor at Central Luzon State University (CLSU) in Nueva Ecija where he also earned his Bachelor's degree in Secondary Education-English. A licensed professional for six years now, he serves his Alma Mater as secretary, coordinator, Senior High School-STEM class adviser, Journalism trainer, and School Paper Adviser of CLSU Science High School, under the College of Education. Mr. Villarama finished Master of Arts in Education-English from Tarlac State University, had passed the Events Management Services-NC III and Front Office Services-NC II trainings by Technical Education Skills Development Authority, and had successfully completed the Teaching of English to Speakers of Other Languages (TESOL) certification course by TESOL Asia, arming himself to constant landscape in Philippine education system.
Mr. Villarama functions in various undertakings as program host and resource speaker, as winning journalism, speech, and writing coach, as convenor of Grub Street, an annual Regional Journalism seminar-workshop, as Board Licensure Examinations for Professional Teachers reviewer and Entrance Examinations test items writer, as compiler and co-author of published materials, as language editor of Synergist, an annual scientific research publication in campus, as technical committee member, evaluator, and reviewer of papers in international fora, and as registered author and editor under the National Book Development Board, Philippines. He was also designated as English assessor of CLSU Expanded Tertiary Education Equivalency and Accreditation Program (ETEEAP) and mentor of exchange interns in Southeast Asia under SEAMEO project as well as interns from University of Tsukuba, Japan and Ganesha University of Education, Indonesia.
On top of his shared expertise in plethora of projects with several organizations as lifetime member and his published articles in refereed journals, Mr. Villarama is recognized, too, for his presented research works around Asia and United States of America. His research interests include language pedagogy, second language acquisition, corpus linguistics, psycholinguistics, sociolinguistics, and materials development.
As youth volunteer, Mr. Villarama chairs the Board of Directors of Nueva Ecija Youth Action Network (NEYAN), a province-wide, non-profit, non-sectarian, non-government, youth-led Organization that aims to empower communities anchored on the United Nation's Sustainable Development Goals. He has paid respectful attention to promote quality education, gender equality, and good health, to reduce inequalities, poverty, and hunger, and to strengthen partnerships for various goals; thus, channeling equitable opportunities for the community and its people to thrive.
Joseph joins the faculty of Asian Languages and Cultures as the Fulbright Foreign Language Teaching Assistant (FLTA) at the University of Michigan, Ann Arbor, Michigan, United States of America.