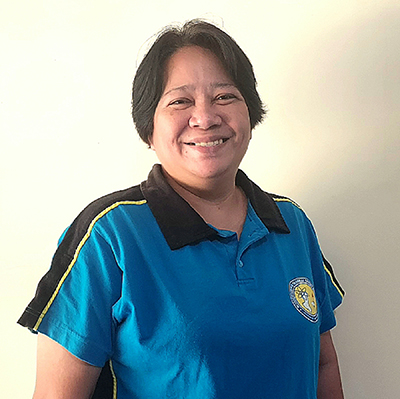 MADONNA BOLINAS DECENA
A hardworking individual with an open mind, innately curious about many things, she believes that education does not stop as long as the person is committed to learning new things every day. She was very active as a student leader, class officer, choir member, and arts and crafts throughout her elementary and high school years. As active as she was in high school, she continued to be an active, participative student in college. College was spent in Cebu, first at the University of San Carlos where she took up Nursing and later transferred to Southwestern University where she obtained her B. S. Biology degree. She proceeded to take up Medicine in Southwestern. Circumstances led to her dropping out of Med School, and she went on to work as a private tutor for elementary and high school students. Seeking job security, she took the Civil Service examination to apply for government work, and successfully passed, earning the Top 2 spot in 2001.
Meanwhile, she has done voluntary work for the Victorias City Women's Foundation, a non-government organization focused on programs for women and children, and with different events done with her high school alumni association. Considering her inclination to teach, she decided to take Education units and in 2008, became a permanent teacher for the Negros Occidental National Science High School, where, as a Science and Research teacher, she has handled various subjects, from the core Science areas of Chemistry, Biology, Earth Science and Physics, to advanced subjects like Applied and Advanced Chemistry, Biotechnology, and Research. Having a medical background, she also handles Anatomy and Physiology, and Parasitology for Senior High School students under the Medical Sciences specialization in the STEM strand.
While taking up her Master's in Education, her passion for the environment was reignited as sustainability and environmental issues became more openly discussed, It was also an important area of focus that she would incorporate across all her areas of instruction, encouraging students to work on projects that would have a profound impact on the environment.
Approaching her 15th year in teaching at a public high school, she has served various assignments other than her teaching load. Presently, she is the property custodian, Science Club adviser, Choir adviser, as well as HR coordinator. She remains motivated and continues to mentor her students with the goal of seeing them become responsible leaders of society in the near future.