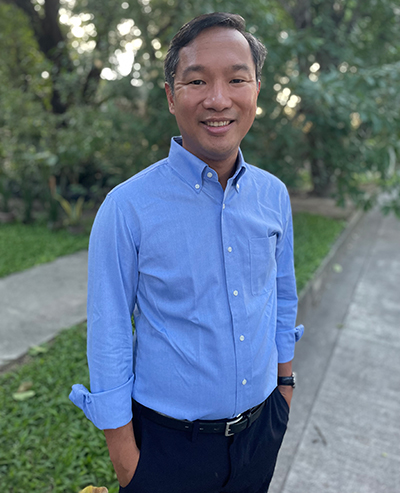 Miguel Salazar
Miguel Antonio Salazar is a Senior Lecturer in the Public Health Program of the Graduate School of Angeles University Foundation and a Medical Specialist in the Jose B. Lingad Memorial General Hospital, both in Pampanga. He is also a member of the Philippine Society of Public Health Physicians. He obtained his Bachelor of Science in Psychology and Doctor of Medicine degrees from the University of the Philippines and Master of Science in International Health and Doctor of Science in Epidemiology in the Heidelberg Institute of Global Health at Heidelberg University. He has work and research experience in social entrepreneurship in health, health information systems, health emergencies and disaster risk management, disease surveillance post-disasters, climate change and health, and antimicrobial resistance (AMR). He has previous engagements with UNEP, WHO Philippine country office and the WHO European Centre for Environment and Health as well as with local health consultancy firms in the Philippines and Southeast Asia.
Miguel has been doing research on the interface between environmental factors and infectious diseases, particularly enteric diseases and AMR. As a visiting scholar in the 2023-24 US ASEAN Fulbright Advanced Research program, Miguel aims to further understand the policy requirements for the integration of the environmental dimension to the antimicrobial resistance national action plan in the Philippines. Through this research stay in the US, he would like to develop research networks between his current institutions in Pampanga with researchers in the US looking at interdisciplinary topics of environmental health and One Health.
In his spare time, he is Co-founder of NanayCare, a social enterprise running a birthing clinic in Candaba, Pampanga which aims to integrate within health care delivery networks, using cost-effective technology.