Nina Floreza A. Liu
Educational Background
Position/Title: Fourth-year undergraduate student
School affiliation: University of the Philippines Diliman, College of Mass Communication
Biography – a brief bio-sketch about yourself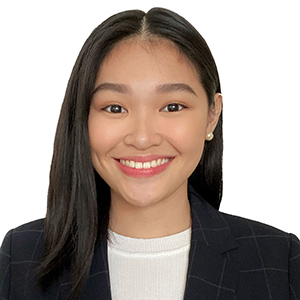 Nina is a BA Broadcast Communication major from the University of the Philippines Diliman. Her formation as an active servant leader in her high school student council led to her valuing the mandate of serving the people—that she now strives to fulfill as an Iskolar ng Bayan. Currently she is an active member of Maroon FM, where she is trained as a production manager, events host, and an online radio jock. She is also the Project Director of AdVocate, a project of the UP Advertising Core that offers pro-bono advertising services to advocacy-driven businesses and organizations.
Through her education in UP, she hopes to be able to contribute as media practitioner in ensuring that the Philippine media industry fulfills its responsibility to produce content, as well as foster a working environment, that is inclusive and accessible to all. She also hopes that her experience working as a former production intern for Rappler, and currently as an intern for Panahon TV, will contribute to realizing this goal.
Education
College (2017-present)
University of the Philippines Diliman, Roxax Ave., Quezon City, Metro Manila
Major: Bachelor of Arts in Broadcast Communication
Magna Cum Laude standing
Training/Leadership Workshops
Rappler Internship and Volunteer Program (July-September 2020)
National Service Training Program (August-December 2018; January-May 2019)
Awards
College
University Scholar (2017-2019)
Video Production Presenter at the Sining del Pilar Sineng Lito Tiongson Series 2020
Paper Presenter at the Sining del Pilar Cecilia Lazaro Kritika Series 2019
Best Public Relations and Promotions Manager (UP AdCore, 2019)
Most Outstanding Applicant (Maroon FM, 2017)
High School
Merit Awardee for Academic Excellence
Most Outstanding Club Member (Tennis Club, 2017)
Most Mission Spirited Student (2017)
Skills and other area/s of interest
Content creation

In my spare time, I enjoy creating video content for my Youtube channel! My content consists mainly of song covers and travel vlogs. I also dabble in hosting and producing podcasts.

Music

I love singing and I also play some instruments—the piano and ukulele.

Gender studies

I've grown to become passionate about understanding the influence of gender in all the social, cultural, and political phenomena occuring in our world. This is a field of study I am genuinely considering pursuing in the future, adjacent to my degree in Media.

Performance Studies

Musical theatre was my first love in high school. Upon entering college, I also developed a newfound appreciation for oral interpretation and performance.