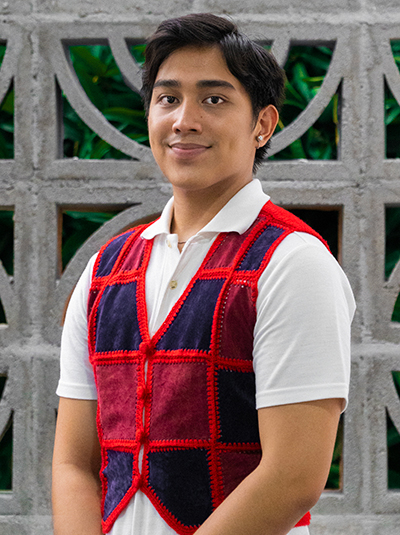 Victor Emmanuel Carmelo P. Nadera II
Fulbright Global UGRAD Program
PAEF Scholar Profile
Victor Emmanuel Carmelo "Wika" P. Nadera II is currently an undergraduate student at the University of the Philippines Diliman College of Fine Arts taking up Bachelor of Fine Arts in Visual Communication. A graduate of the Philippine High School for the Arts (PHSA) where he majored in Visual Arts, Nadera was exposed to transdisciplinary art practices that created trajectories, opportunities, and advocacies toward innovative artistic production and engagements.
Nadera works with different media such as illustration, painting, sculpture, installation, graphic design, animation, photography, film, and production design that reflect on Filipino narratives on space and identity. His Grade 12 Thesis in PHSA—a video and architectural installation—was a cooperative attempt to monumentalize his notions of passion, place, and privilege after his 6 years of arts education in Mt. Makiling, Laguna. Since the COVID-19 pandemic, Nadera focused on digital works to situate personal and public experiences in reimagined landscapes as circumvention; which then became collaborative and overlapped with his spatial projects.
The Global UGRAD Program is a venue for cultural exchange and leadership training where he aims to further expand and deepen his role as a Filipino visual arts practitioner to document cultural identities; draw social awareness; and develop new ways of co-creation and leadership with the youth in using art for national consciousness. As a cultural worker and organizer, the program will shape a meaningful and firmer contemporary art practice that molds an integrated and holistic arts education
Recognizing the many possibilities in his artistic investigations, Nadera is motivated to explore diverse forms and applications with other artists. His other interests include researching and curating for exhibits; conducting art workshops for children; laying out books, posters, and other publication materials; illustrating for children's books and other youth-oriented publications; and designing costumes and sets for theater plays.